Yellville is a town of 1,204 population (2010 U.S. Census) and is the county seat for Marion County, located in north central Arkansas about 30 miles south of the Arkansas-Missouri state line. The town is now known far and wide for its annual Turkey Trot Festival. The event is held the second weekend in October and includes the National Wild Turkey Calling Contest. Yellville is a town of tradition as well as tourism.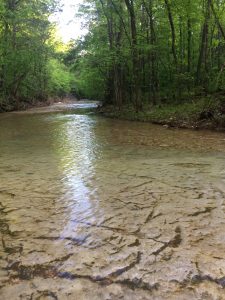 Crooked Creek, a famed smallmouth bass stream, runs right through town and is popular for kayaking, canoeing, swimming, and fishing. The Fred Berry Conservation Education Center is located on the creek and was founded by Fred Berry, a former Yellville-Summit school counselor and teacher
Yellville's City Park affords access to Crooked Creek with a canoe landing, lighted walking trail, ball diamonds and sports court. This genuine Ozark Mountain village shares its pastoral scenery with those who visit to fish and float the Buffalo National River and other nearby streams.
Yellville residents work in small industries, in lumber, agricultural and tourist trades. There are approximately 1100 students in the Yellville-Summit schools. Arkansas State University in Mountain Home, 25 miles to the east, and North Arkansas College in Harrison, 25 miles to the west, provide higher education opportunities.
The climate is mild with average winter temperatures of a moderate 35-40 degrees. Average annual rainfall is 40-45 inches.
---
Founded in 1835 as Shawneetown, the town has a rich Native American history and was initially named after the Shawnee tribe that settled in the area. After the tribes were forced to move west, the town was incorporated the first time in 1855 as Yellville.
The town was named after Arkansas Governor Archibald Yell, a prominent military and governmental leader of the early 1800s. Governor Yell had been in the War of 1812 and was a Federal judge, a Congressman, and Governor. Yellville had to be incorporated a second time in 1872 after the Civil War. The county's fifth court house was constructed in 1944 after fires had burned the previous buildings. The current structure is on the National Register of Historic Places.
Information sourced from the Encyclopedia of Arkansas.
Looking to relocate?
South Shore - Bull Shoals Lake, Arkansas - a great place to visit; a better place to live!
Yellville is accessed by a major non-Interstate east-west route, U.S. Highway 412/62, and is on north-south Arkansas Highway 14, a popular scenic highway. Less-traveled state highways 235 and 202 also lead into Yellville. The town is situated on Crooked Creek, a popular fishing stream during wet weather, and is a northern gateway to Buffalo National River. Nearest Interstate highways are Interstate 44 (100 miles north) and Interstate 40 (100 miles south).